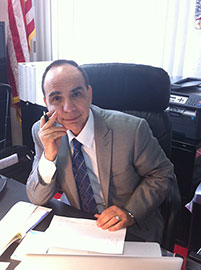 LETTER FROM OUR FOUNDER & CEO
It is my personal and distinct pleasure to welcome you to St. Anthony Medical Centers, [SAMC] the home of thousands of patients whom I have been personally servicing in Los Angeles County for 30 years.
Since my start in 1986, I have been accepting Medi-Cal patients. In return, I have established a personal relationship with what is now the 4th generation of original patients. The personal satisfaction of hearing a patient's appreciative words and/or seeing the smiles on their faces makes this daily struggle worthwhile.
Over this period, and now in my current role as Chief Executive Officer of SAMC, I have overseen the care of thousands of medical issues. Similarly, my wife, Gihan Anthony, DDS, in her role as our Chief Dental Officer (CDO), has overseen thousands of dental procedures during her 20+ years tenure.
As an immigrant myself, and part of the minority-class, it has been my privilege to work with the lower income populations, which constitutes the vast majority of our patients at SAMC.
In addition to overseeing our clinical model of care, I enjoy guiding, advising, and teaching our team at SAMC on how to approach our patients with the SAMC philosophy of honesty, compassion, with personal regard, and the highest medical standards. It is with this same approach that I personally screen our providers, only selecting those who share the philosophy of our mission.
We at SAMC appreciate both the federal and state partnership programs, which allow us to succeed in our mission.
Warm regards,
Awad Anthony, MD
Founder & Chief Executive Officer